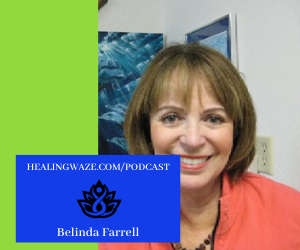 Belinda Farrell is a Certified Master Hypnotherapist, NLP Master Practitioner, Huna Practitioner, and Reconnective Healing Practitioner, Belinda... and the author of Find Your Friggin Joy.
In her book she shares her own journey from divorced mother of two at 40 years old, grieving the loss of her son to suicide; to learning how to "firewalk" with Tony Robbins and conquer her fears.
These (18) firewalks led her to become a stunt car driver for film and TV for many years. 
She eventually suffered a crippling spinal injury- was stuck in bed for a month; and through Huna Healing she healed her back and body without surgery.
Belinda believes self-forgiveness is a powerful tool to clear the past-giving you more energy for present and future.
She says your energy is like money. She can teach you how to create a savings account! 
Belinda's joy is contagious and you'll feel it when you listen to this episode.
Learn more about Belinda and her book, Find Your Friggin' Joy at http://www.hunahealing.com/ 
By Participating in this podcast you agree that this is not a replacement for medical services and are encouraged to seek immediate medical care if needed. Read our full disclaimer here. https://healingwaze.com/healingwaze-disclaimer/