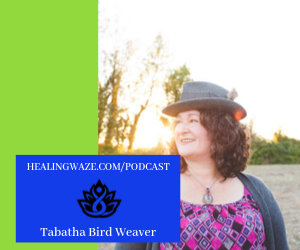 Have you ever come across someone who looks put together on the outside but, you know is a hot mess inside?
Is that you? Able to pull it together for appearances sake, but never really feeling whole or connected inside?
Our guest today, Tabatha Bird Weaver blends talk therapy methods, energy healing and chakra work for a total holistic healthcare experience.
Tabatha is a dually licensed psychotherapist and founder of Breathe Healing Arts Center in Newberg, OR.
Tabatha has earned memberships & awards, spoken nationally, lobbied for families and therapists in Washington D.C. and created several programs for the State of Oregon agencies.
She has worked in the foster system and in family/marriage counseling. She's trained to diagnose and treat mental health disorders and is also trained in multiple energetic healing methods.
Her passion is helping adults heal from trauma, particularly from childhood or narcissistic abuse, and helping overwhelmed empaths and those experiencing codependency behaviors.
In this episode you'll learn how trauma manifests itself in your mind and body, learn ways to heal, get some tips on boundary setting, and even get a guided meditation to use in those moments when you're feeling frazzled and need to strengthen your boundaries.
Learn more about Tabatha online:
breathespirit.com/
karmicalchemist.com/
On Social Media:
Facebook: www.facebook.com/tabathabirdweaver/
instagram: www.instagram.com/karmic.alchemist
And on HealingWaze: https://healingwaze.com/practitioners/breathe-healing-arts-center/
Tabatha recommends this website for self help: http://www.sfhelp.org/
You can download her guided meditation on boundaries HERE
By Participating in this podcast you agree that this is not a replacement for medical services and are encouraged to seek immediate medical care if needed. Read our full disclaimer here. https://healingwaze.com/healingwaze-disclaimer/