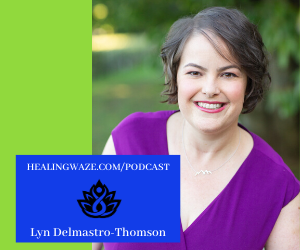 Amber's chats with her virtual assistant Tiffany Groben- a huge supporter of holistic and alternative medicine; one of the many reasons Amber chooses Tiffany to help with this podcast and the HealingWaze mission!
Tiffany says Holistic Healthcare is a game changer for her own well-being. 
She's a huge fan of all forms and talks about some of her favorites in this conversation, including bodywork, acupuncture, EFT, naturopathic medicine, and one of her very favorites- essential oils. 
Tiffany has had so much success with using essential oils to help with her own anxiety, PMS, and migraines that she now helps teach others how to use them. 
This conversation also touches on detoxing, as Tiffany is currently (at the recording of this episode), halfway through her very first detox. She shares why she decided to do it, what she's experiencing right now, and what she hopes to get out of it in the end. 
If you, like Tiffany, are a busy professional looking for more natural-holistic ways to feel better; this episode it for you! 
If you're interested in hiring Tiffany for virtual assisting services you can find her at:
Other social media outlets where you can connect with Tiffany: