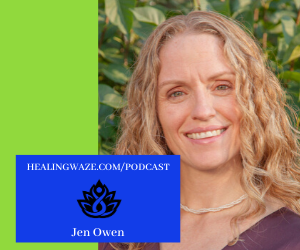 What is Integrative Medicine?
Jen Owen breaks it down for us; along with the definition of a Nurse Practitioner.
Jen is an Integrative Medicine Nurse Practitioner. She combines the best of modern, conventional medicine with the best of natural medicine. Jen believes in a true holistic approach to healthcare using whatever healing modality is best for each individual person.
She is the owner of Flourish Integrative Medicine in Portland, OR; and the creator of The Sacred Terrain, offering Pelvic Bowl Healing Sessions, Yoni Steams, and Programs to build your Spiritual Practice.
In this conversation you'll learn how and why Jen is passionate about Integrative Medicine... and the pelvic bowl. She'll also give you some tips on buying herbs and supplements on your own!
You don't wanna miss that part.
Because Jen is a medically licensed professional she can diagnose illnesses/symptoms and prescribe medications when most needed. She also practices herbal medicine, functional medicine, mind-body medicine and pelvic floor therapy.
Her passion is helping patients who have seen a lot of conventional providers and no one can figure out what is going on. She loves helping those who want the conventional medicine eye on things, but prefer natural therapies.
Jen is grounded, earthy and passionate about holistic healthcare and helping the industry succeed.
You can learn more about Jen and Flourish on HealingWaze.com:
https://healingwaze.com/practitioners/flourishintegrativemedicine/
Or online at www.theflourishcenter.co
On Facebook at https://www.facebook.com/flourishintegrativemedicine/
Learn more about The Sacred Terrain at https://www.thesacredterrain.com/
If you're an NP and would like to know more about Jens business training program, visit the Flourish website or https://www.theflourishcenter.co/np-training-program/
By Participating in this podcast you agree that this is not a replacement for medical services and are encouraged to seek immediate medical care if needed. Read our full disclaimer here. https://healingwaze.com/healingwaze-disclaimer/