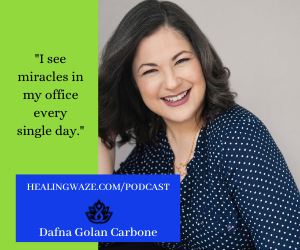 Dafna Golan Carbone is a family holistic health practitioner using many different energy modalities to help moms and babies.
"I see miracles in my office every single day."- Dafna
Dafna help moms put their bodies back together after birth and maneuver through the ups and downs of motherhood.
Her work with newborns and babies focuses on clearing birth trauma on all levels and creating the best foundation for the rest of their lives.
But in our conversation today, we talk more about BodyTalk, Craniosacral Fascial Therapy and the newest addition to the BodyTalk family-Body Intuitive; which Dafna was just trained in a week before we talked.
So, it's new to her too! But, like BodyTalk, it sounds pretty cool and totally holistic!
You'll also get to hear how she believes getting BodyTalk for herself ruined her from enjoying and even fully benefiting from other healing methods.
Like I always say, there are tons of different holistic and natural healing methods; but not all are for everyone. Sometimes you have to experiment to find the right one for you.
(That's why I do this podcast, to give you a little sneak peak into all that's available to you!)
Learn more about Dafna at: dafnagolan.com
On HealingWaze at:
https://healingwaze.com/practitioners/dafnagolan-themamaacademy/
By Participating in this podcast you agree that this is not a replacement for medical services and are encouraged to seek immediate medical care if needed. Read our full disclaimer here. https://healingwaze.com/healingwaze-disclaimer/