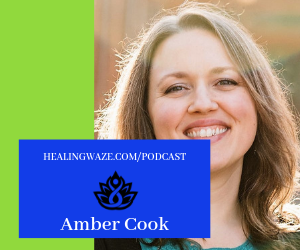 This episode blows the lid off of Amber's personal struggles with mental illness and will hopefully help you or someone you love get 
over the shame associated with mental illness and get help.
A couple months ago, after years of trauma and stress, an incident with her adult son put her over the edge of sanity, and made her question everything.
Amber has danced with depression and anxiety most of her life. Yet, she is truly a positive and hopeful person. But, maintaining or bringing in back isn't easy. It takes daily self-care/work and sometimes lots of outside help.
She's tried everything from traditional counseling to sensory deprivation... and every holistic/natural treatment in-between.
Learn about all the different methods she's tried... including what she's doing right now to help.  
Amber urges you to get support. Then go from there...
If you need support and don't have a team, or you're not ready to get one, there are support groups for all kinds of mental illness, or the things that cause it-death, trauma, abuse, post-partum, life stages, etc.
You may be in a stage where you don't even know where to start. That's okay.
NAMI (National Alliance on Mental Illness) is a great place to start nami.org
or
The National Suicide Prevention Lifeline at  1-800-273-8255. Even if you're not suicidal the people at the lifeline can help you through whatever crisis you're in.
If you have someone in your life you can trust, please let them know what you're going through. They can't help if they don't know.
I hope you find comfort in knowing you are definitely not alone in this whole mental health struggle.  
There are so many resources available to us-and some are totally free. And, many are even found in nature. If you choose to try a
natural herbal remedy please do your research (especially regarding drug interaction) and consult with a professional if you can.
For those of you who are parents of mentally ill and suicidal teens and adults; Amber has started a Facebook Group for support during this difficult parenting journey. https://www.facebook.com/groups/PutYourMaskOnFirst/
Amber says, "In your darkest moments, know that you are not alone - You too, are here for a reason. Don't let mental illness keep you from realizing or living out that reason."