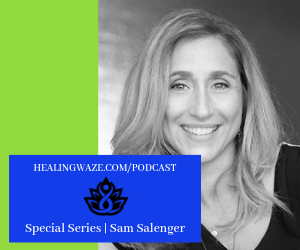 This is the first episode in our "Ask A Healing Pro" live series, hosted by Bodytalk Practitioner and HealingWaze team member Lyn Delmastro Thompson.  
If you're a woman in midlife, you'll wanna stick around for all the good stuff packed into this short episode.  
Lyn's guest is Sam Salenger. 
Sam is an Intuitive Empowerment Coach for women in midlife. Because, in her words; she knows the feeling of being lost and she knows what it's like to want more. 
Sam is on a mission to help women remember their power and reclaim their voices. 
In this episode, which first appeared live on Facebook Lyn and Sam chat about the easiest and fastest way to shift your mindset and how we must learn to trust ourselves. 
"It's not an attitude of gratitude - it's a habit of gratitude".
~Sam Salenger
Learn more about today's host Lyn Delmastro Thomson of Heart Fire Healing: https://healingwaze.com/practitioners/heart-fire-healing/
Learn more about working with Sam:
https://healingwaze.com/practitioners/sam-salenger-coaching/
By Participating in this podcast you agree that this is not a replacement for medical services and are encouraged to seek immediate medical care if needed. Read our full disclaimer here.
https://healingwaze.com/healingwaze-disclaimer/