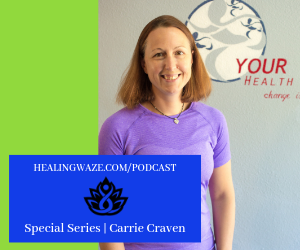 "Dancing in your living room is good enough!" says Carrie Craven, a certified personal trainer and Reembody practitioner. 
In our 2nd episode in our "Ask A Healing Pro" live series, hosted by Bodytalk Practitioner and HealingWaze team member Lyn Delmastro Thomson; you'll learn that you it's OK if you're not into CrossFit or Warrior Dash; and if you hate going to the gym there are so many more options to help you get and stay fit.  
Since exercise and movement are key components to total health and well-being, why not make it something you enjoy??
Carrie says there's so much more to movement therapy beyond burning calories. Learn some of her favorite methods for her and her clients in this short episode.   
And, if you want to know more about her favorite movement method, visit Reembody.me
By Participating in this podcast you agree that this is not a replacement for medical services and are encouraged to seek immediate medical care if needed. Read our full disclaimer here.