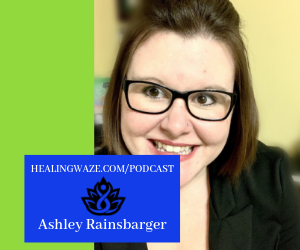 Listen to your intuition to find joy in life and business! 
"Work on being the happiest and healthiest version of you; because if you do that, everything else will fall into place."
Ashley Rainsbarger is a certified health, life, and leadership coach. She is also training to become a Reiki Master practitioner. 
Ashley talks about how to discern your intuition from just thoughts, find the confidence to lead others when you're an introvert/come from a challenging background; and gives us some intentional journeling pointers for health, wellness and success.  
Ashley lives near Kansas City Missouri, and is actually HealingWaze's newest Holistic Connection Host. You can find out more at Healingwaze.com/events. You can also work with her from wherever you are! 
Find out more at:
By Participating in this podcast you agree that this is not a replacement for medical services and are encouraged to seek immediate medical care if needed. Read our full disclaimer here. https://healingwaze.com/healingwaze-disclaimer/