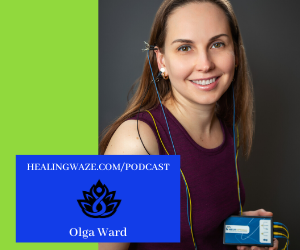 When things are "off" in our brain function, disorder can manifest in so many different ways-anxiety, insomnia, depression, ADHD, and PTSD to name a few.
We give our bodies a workout to improve its function, why not give our brains a workout?
This is, essentially what Neurofeedback does. It's a (gentle) workout for your brain!
Olga Ward is the owner of Beaverton Neurofeedback, in Beaveton, OR, and also a regular user of Neurofeedback.
Olga and her husband provide therapeutic foster care to children with trauma and attachment issues; along with being parents of an adopted child. They know first hand, the toll of being a parent can take on a person physically and mentally.
After having experienced the positive, life-changing power of NeurOptimal® neurofeedback (or brain training) on herself and on her family, she was led to help others in this way.
In this conversation she helps clear up fears and misconceptions you may have about neurofeedback, as well as describing what it actually does... and doesn't do.
Neurofeedback is a powerful healing method for everyone and has little to no negative side effects.
Olga said, she has seen her clients' lives transformed with NeurOptimal® brain training. In addition to providing sessions in her office, she offers rental systems for busy families to use at home, as well as assist those who are interested in purchasing their own systems for personal or professional use.
Learn more about Olga and neurofeedback on HealingWaze: https://healingwaze.com/practitioners/beaverton-neurofeedback-llc/
Online at BeavertonNeurofeedback.com
And on Instagram:
https://www.instagram.com/beavertonneuro/
By Participating in this podcast you agree that this is not a replacement for medical services and are encouraged to seek immediate medical care if needed. Read our full disclaimer here. https://healingwaze.com/healingwaze-disclaimer/