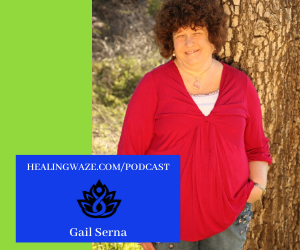 Gail Serna is a psychic medium, spiritual counselor, channel and Reiki practitioner.
Gail's mission is to empower others to feel comfortable with their own intuitive guidance and trust the information they receive; helping make sound decisions leading to a more joyful life.
This conversation is talking about all of that plus inevitable transitions and change that we all must face in life.  
Gail admits she wasn't always so spiritually and energetically "together". She turned to spirituality when her dad committed suicide 20+ years ago. She had a session with a psychic medium that changed her life on an emotional and physical level (picking up where traditional therapy wasn't able to help).
As she grew into having more of a relationship with her higher self, Gail became more confident and started living within her own inner integrity.
Gail shares some more insight into her personal challenges and strategies used to help her navigate this world as a sensitive human and helper (and parent).
You can learn more about Gail on HealingWaze:
https://healingwaze.com/practitioners/souls-collective-with-gail-serna/
And, more about her services including her intuition development classes at https://www.soulscollective.com/
By Participating in this podcast you agree that this is not a replacement for medical services and are encouraged to seek immediate medical care if needed. Read our full disclaimer here. https://healingwaze.com/healingwaze-disclaimer/