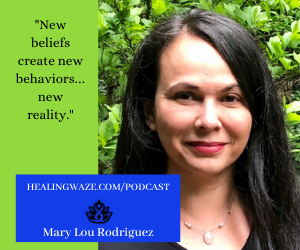 Your "beautiful brain" is a term used by our guest, Mary Lou Rodriguez. 
Mary Lou is a trustworthy and passionate professional hypnotherapist. She is committed to healing our world, one client at a time. She thrives on being of service. 
Unlike many other therapists, Mary Lou customizes personalized affirmations for each client. She even extends the effectiveness of the sessions by assigning "homework" exercises. Using a variety of techniques, Mary Lou maximizes the impact of hypnosis.
She believes, "New beliefs create new behaviors… new reality".  
Her early life as a first generation American of a Hispanic family was filled with love, but also many challenges, making her the resilient woman she is today. Mary Lou was a recipient of hypnosis and went off to thrive in life.  
In this episode Mary Lou shares an emotional story of how she became interested in hypnotherapy as a profession and how it all started with her own healing journey; and also through trying to help her mother during a terminal illness. 
You'll hear about the myths surrounding hypnotherapy, and why it really does work for EVERYONE! Mary Lou shares her process and some powerful visualization advice to use during meditation or your next (or first) hypnotherapy session. 
Mary Lou is a Certified Clinical Hypnotherapist, licensed with the National Guild of Hypnotists and a Master Hypnotist.  Her advanced Hypnotherapy training is referred to as 5-PATH which stands for Five Phases of Advanced Transformational Healing.
Learn more about Mary Lou online at: