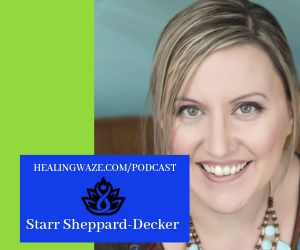 "Spirituality is about unity not duality. There isn't one right way to be a spiritual being."
~Starr Sheppard Decker
In this episode with Starr Sheppard-Decker, we talk about everything from toxic positivity, shame, authenticity, the difference between coaching and traditional counseling and so much more! 
Starr is a Spiritual Leader, Professional Vocalist, Public Speaker, and Founder of Radical Revelations, Starr's Spiritual Sundays, Sacred Support Circle, and the Portland Lunch Meetup Community. 
She supports Coaches & Healers with Major Life Challenges to cultivate inner stability and business sustainability, so they can keep giving their best even if they're at their worst. 
Starr brings her bright light, quick wit, depth, love and humor to everything she does, including this conversation. 
You can learn more about Starr and all of her organizations at radicalrevelations.com
On HealingWaze at https://healingwaze.com/practitioners/radical-revelations-llc/
And on Social Media:
facebook.com/radrevelations
linkedin.com/in/radrevelations
instagram.com/radrevelations
By Participating in this podcast you agree that this is not a replacement for medical services and are encouraged to seek immediate medical care if needed. Read our full disclaimer here.
https://healingwaze.com/healingwaze-disclaimer/