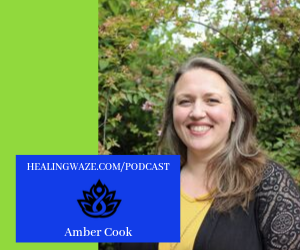 This episode was a previously recorded conversation between Amber and Mindy Totten, a holistic healing professional with a Craniosacral Therapy practice in North Carolina, and the creator of The Bodywork Project.  
It originally aired on her podcast Do It With Intention- a weekly podcast about marketing and all-things-related to the bodywork-business.
She and Amber share a passion for helping people- helping them on their healing journey and on their business journey. 
If you've listened to any of Amber's past episodes, you know she loves holistic and alternative healthcare. Amber is passionate about helping people get familiar with it and find the right method for them! Hence HealingWaze.com!
But, her other passion is helping holistic healing professionals thrive in business- so they can do what they love doing- helping you thrive in your health journey.
In this conversation you'll learn a little more about that side of Amber... and a little known "fun fact" about her as well. 
And, spoiler alert- Mindy is going to be a guest on this podcast soon; Talking about her own healing journey and so much more! These two always have great conversations. You won't want to miss it! Make sure you subscribe to this podcast so you get notified when it's released.
If you'd like to learn more about Mindy, check her out online at mindytotten.com. 
If you're a bodyworker, you won't want to miss her podcast: 
She's also running a free challenge starting Jan. 13th- The Step Up Challenge: Stop spinning your wheels... Start building a successful bodywork practice that works for YOU.