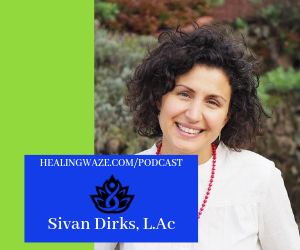 Acupuncture and Chinese Medicine are beneficial for the whole family. But, today's guest, Sivan Dirks, has a passion for helping moms and kids.
If you're a parent or soon to be-you don't wanna miss this episode.   
Sivan is a board certified licensed Acupuncturist, Chinese Medicine Herbalist, essential oil enthusiast and a mom of two littles herself (listen for the special guest that shows up towards the end). 
Sivan is truly a supermom-raising a family while running a successful acupuncture clinic in Portland, OR-Rose City Baby.   
Becoming a mom herself is what first fueled her passion for maternal health and pediatrics. She uses acupuncture for all stages of pregnancy, including labor support and postpartum care. 
Did you know Acupuncture and Chinese medicine can be used in treating fertility issues?? Allergies? And, so much more! 
Sivan uses her powerful, yet gentle healing methods with kids from infancy to adolescence and is dedicated to helping little ones heal and thrive naturally. Her ultimate goal is to empower and support parents in raising happy healthy kids. 
If you're in Portland, OR and would like to learn more or schedule a session with Sivan visit www.rosecitybaby.com
On HealingWaze.com:
https://healingwaze.com/practitioners/rose-city-baby/
And, on Facebook and Instagram: Rose City Baby
By Participating in this podcast you agree that this is not a replacement for medical services and are encouraged to seek immediate medical care if needed. Read our full disclaimer here: https://healingwaze.com/healingwaze-disclaimer/